The only thing better than a long and action-filled car chase in a movie is a long and action-filled car chase with a BMW. Yes, these cars are luxurious and have carried royalty and business tycoons alike, but these bad boys can get down and dirty as well. This list will be composed of the top ten performing BMW's. If the car isn't badass then it didn't make the list.
Note: These cars are ranked in no particular order, except badassness.
So, without further adieu . . .
No. 10
Car: 1995 E36/7 Z3
Film: Golden Eye (1995)
Just another Bond-girl and just another BMW. Equipped with a rear parachute and stinger missiles behind the headlights, this baby spent less than two minutes on-screen, which is pathetic, but the car is still awesome.
No. 9 
Car: 1999 Z8
Film: The World is Not Enough (1999)
This animal, equipped with surface-to-air missiles, can be seen exploding a helicopter and reducing it to scrap metal. Unfortunately, shortly after it is cut in half by a giant chainsaw-wielding helicopter. Aside from being tough, the silver finish did add some class to the ride.
No. 8
Car: E38 75oil
Film: Tomorrow Never Dies (1997)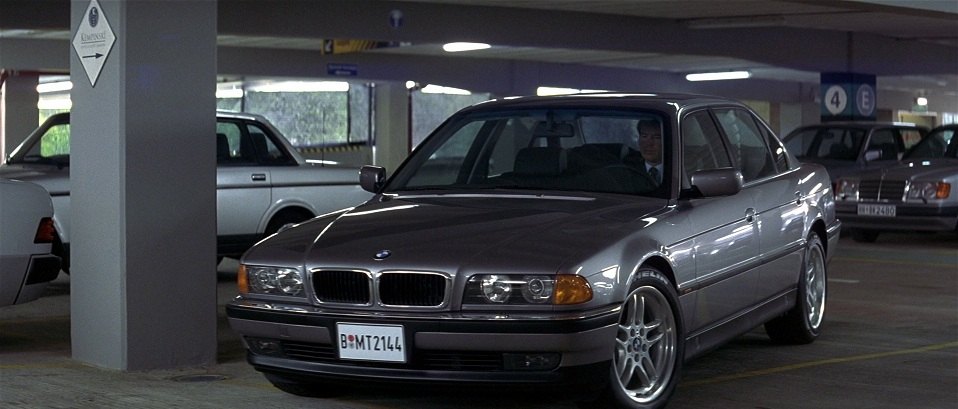 It seemed that Brosnan's car of choice during his tenure as James Bond was BMW, and who could blame him? Nothing is as fierce and classy simultaneously as a BMW. In the film, Bond is able to control the car from his cellphone, which he does, while exploding cars and eluding henchmen all in the comfort of his back seat. Thanks for the good drives, Brosnan.
No. 7
Car: 1996 328iS Coupe'
Film: Shoot 'Em Up (2007)
This movie also highlights a 7 series but the 328iS takes the show. To begin with, Clive Owens jumps off an overpass, shoots the sun roof, and safely lands in the driver seat – AWESOME. He also evades the typical henchman in a van with rifles, uses the door as a weapon, then has a head on collision with the van, in order to land inside  to take care of the remaining thugs. By the end of the chase the car is reduced to scrap metal showcasing the durability and grit behind a BMW.
No. 6
Car: 1993 E36 325iS Coupe'
Film: The Chase (1994)
Charlie Sheen steels this automobile and drives it for the majority of the film. Possibly, no other BMW has ever been showcased longer in a film. I would guestimate that 75% of the movie is in this vehicle or right outside of it. Sheen's tiger blood pressure was high on this one.
No. 5
Car: 2002 E85 Z4
Film: The Hire: Beat the Devil (2002)
Well, when BMW teams up with different directors for a series of short films starring Clive Owens it's going to be awesome. These shorts showcase the agility and speed of the E38 Z4. If you haven't seen these shorts go check them out now.
No. 4
Car: E34 535i
Film: Ronin (1998)
A lot of close calls and tight corners in this fast-paced chase around France. This scene shows some of the best driving in a film
No. 3
Vehicle: Vision Efficient Dynamics i8 Concept
Film: Mission Impossible – Ghost Protocol (2011)
Tom Cruise drives this futuristic masterpiece for not too long but, wow, it looks spectacular weaving around traffic and dodging obstacles. Set to be released in 2014, the car made a debut in this film while being driven by Tom and riding shotgun the beautiful Paula Patton. It's hard to tell which is more beautiful between Paula and the car, but I'll pick the space-age-looking car.
No. 2
Car: 1995 E38 735i
Film: The Transporter (2002)
What does Jason Statham and a BMW 7 series have in common? Well, for starters, they both kick ass and make every movie better. The film presents the protagonist as a calm, reserved, and classy driver with a luxury car to match. As soon as the film begins you can see both the viciousness of the driver, as well as the beastly side of his vehicle. Explosions, crashes, chases, bullets, fighting, and best of all, BMW. What more do you want, honestly?
No. 1
Vehicle: E60 M5
Film: Fast & Furious 6 (2013)
Fast & Furious 6 is not only an awesome movie on its own, it includes a chase scene with at least four blacked out M5′s. These cars were tossed in the air and wrecked while trying to chase down some villains, but aside from being trashed, the cars also show how fast and furious they can be with manipulation of the handbrake and shifting of gears.
 * Let us know if you think of any more awesome BMW movie stars or tell us how you would rank these cars
ADD THESE GREAT UPGRADES TO YOUR BMW